Baby It's Cold Outside S:t Petersburg Womens Day
Det som började som en liten fundering om hur kallt det är i S:t Petersburg i slutet av januari och relationen mellan Fahrenheit och Celsius grader, en räta linjens ekvation för Piter, har nu blivit ett antal bloggar.
I dag på Womans Day knyter vi an till temat med en mycket märkvärdig kvinna Olga Ladyzhenskaya från sankt Petersburg som hyllades, Happy 97th birthday, på gårdagens
Doodle Google 7 mars 2019
.
Hon var matematiker, forskare, och utvecklade speciellt teorier omkring differentialekvationer. På många sätt en typisk intellektuell (kombinerar idéer, lidande och innerlig tro) från S.t Petersburg och Ryssland. Hon förlorade sin far, som var lärare i matematik, i Stalins Stora terror. Fadern blev arkebuserad av NKVD (föregångaren till KGB) 1937. Olga L fick inte börja sina högre studier i matematik på Leningrads universitet, som dotter till en folkets fiende, men kom så småningom in på Moskvas universitet där hon bedrev högre studier i matematik och avlade en doktorsexamen kring partiella differentialekvationer. Trots allt lidande i gamla Leningrad återvände hon till staden och var medlem (verksam) i det berömda Steklov Institutet för Matematik även kallat Ryska Vetenskapsakademien.
Olga L tillhörde de fritänkande i S.t Petersburgs intellektuella liv. Hon var god vän med Alexander Solsjenitsin som nämnde hennes far i Gulagarkipelagen och Anna Achmatova kände Olga så väl att hon tillägnade henne ett poem. Hon älskade naturen och kulturen, hjälpte sina medmänniskor i Piter, visade stor empati, var en lysande historieberättare och hämtade styrka i sin djupa religiösa tro. Trots att hon blev S:t Petersburg trogen lämnade hon gärna staden under de mörka vintermånaderna. På väg till en sådan resa, Florida och solen, avled hon stilla i sömnen under natten, dagen före sin avfärd.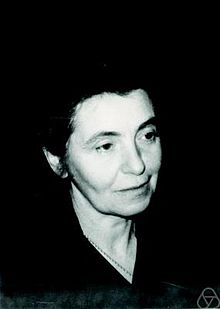 Olga LADYZHENSKAYA
20th century
Fields:
Mathematics
Born: 1922 in Kologriv (Russia)
Death: 2004 in Saint Petersburg(Russia)
Lomonosov Gold Medal in 2002
Main achievements: First rigorous proofs of the convergence of a finite difference method for the Navier–Stokes equations. (From History of Scientific History)
Vill man ta del av en riktigt fin artikel om människan, matematikern och forskaren Olga Ladyzhenskaya så läs från History of Scientific History
Olga Ladyzhenskaya
!
©Thommy
Sjöberg
Labels: internationella kvinnodagen