Kistalight goes for match with an essay of Zlatan
Zlatans smile - 15 Minutes From The Middleclass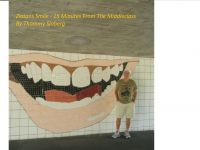 By
Thommy Sjoberg
Rating: Not yet rated.
Published: Nov. 14, 2013
Words: 2,010 (approximate)
Language: English
ISBN:
9781311683755
Description
An essay about Zlatan Ibrahimovic the swedish fotballplayer and how it is to grow up in Rosengard in Malmö. Kistalight has been a tourist in Malmö a couple of days and of course we do a Zlatan Tour! We start at the underpass up to Johan Cronmans road in Rosengård. Will not all future guide tours in Malmö have a Zlatan walk? We also read the bestselling biography I´m Zlatan by David Lagercrantz.
Tags
from kistalight blog
,
swedish bestseller book
,
i am zlatan
,
zlatan ibrahimovic
Price: Free!
Download
Add to your library
If dogs runs free
why not we
(citat Bob Dylan
Tomorrow då gäller det!
Kistalight fortsätter med sina essäer och översättningar på smashword.com.
Härligt med e-books!
I dag med Zlatan som frontfigur
och i huvudrollen. Vi hoppas och tror på honom inför morgondagens match som egentligen är två matcher.
Sverige - Portugal!
Javisst!
Men också matchen i matchen den mellan världsstjärnorna Zlatan och Ronaldo.
Vi tror på Zlatan som trots allt är
fostrad
i en svensk tradition. Där laget är viktigare än den enskilda spelaren. Vilket Zlatan har tagit till sitt hjärta. Vi tror att han vuxit som spelare och fått förmågan att kunna lyfta både sin omgivning (laget) och sig själv när det gäller.
Något som kännetecknar alla stora spelare.
I morgon kväll vet vi och kanske får Zlatan anledning att fyra av ett av dessa leenden som bara han kan leverera förutom
förstås
alla dessa klacksparkar, bicycletas, framspelningar, frisparkar, straffar och alldeles vanliga bredsidor som också tillhör repertoaren för en stor lirare.
Nu har vi haft Twitter en dryg vecka - Se även!
Looking at Zlatans smile - 15 minutes from the middleclass by Thommy Sjoberg at #smashwords https://t.co/5vuFHDmx1W
— Thommy Sjöberg (@Kistalight) November 14, 2013
Andra bloggar om Kista
Andra bloggar om litteratur
Andra bloggar om klassresor
Andra blo
ggar om författare:
Andra bloggar om Zlatan
Andra bloggar om Malmö
Andra bloggar om Turning Torso
© Thommy Sjöberg
Labels: stor spelare, Tomorrow då gäller det, Zlatan, Zlatan's smile