Kistalight an indieauthor
In the footsteps of Stieg Larsson the millenium author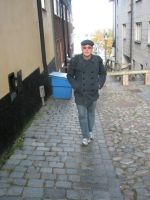 By
Thommy Sjoberg
Rating: Not yet rated.
Published: Oct. 16, 2013
Words: 2,050 (approximate)
Language: English
ISBN:
9781301957217
Description
An essay about Stieg Larsson Why not a Millennium Walk In the footpaths of Stieg Larsson? Follow the most attended and best-selling detective story of them all! What is the secret behind the success? Why not pick out and list the ingredients of Stieg Larsson's million-selling concept from Kistalight på spaning Thommy Sjoberg
Price: Free!
Download
Add to your library
If dogs runs free
why not we
(citat Bob Dylan)
Kistalight prövar smashword.com med en essä från Kistalight på spaning om Stieg Larsson och Milleniumtrilogin.
Klart värsta hypen är över för de böckerna men kul ändå att publicera en liten e-book speciellt för mina amerikanska besökare med hjälp av Googletranslation.
What a translation!
Upptäcker att det går alldeles utmärkt att publicera sina bitar på svenska på Smashword och återkommer säkert med provtryck även där!
Känns bra eftersom det är väl pirrigt med dessa googletranslations!
Översättningen håller den?
Om än uppsnyggad!
Essän skulle möjligen kunna räknas som
en Kindle Singel
på bok och nätförlaget Amazon.
Mindre än en bok men längre än en standardartikel!
Har du varken en iPad, iPhone eller Kindle som läsplatta går det utmärkt att läsa In the footsteps... Online eller ladda ned som PDF-fil.
PS
Smashwords kommersiella idé är väl får man förmoda - lite a la Google:
Det är inte storleken det beror på om en produkt är lönsam utan mängden!
10 000 små lönsamma försäljningar är större än några få storsäljare.
För att inte tala om 100 000 försäljningar!
Det lönsamma släpet!
Labels: Det lönsamma släpet, Googletranslation what a translation, if dogs run free, Kista Light even more literary than you think, smashword